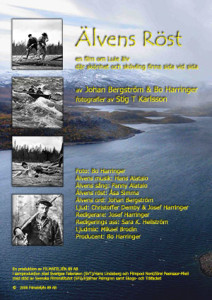 This film takes you on a journey along Lule älv, the largest and most majestic river of Sweden. It describes a landscape where beauty and harsh exploitation exist side by side and people live on a knife´s edge between despair and hope. The river itself has the voice of a woman. She narrates the dramatic history of how the reindeer-herders and log-drivers first came to work along the shores of this river. She speaks of a presence of conflicts and doubts, but of a future, where hope exists: "Now the light comes over the mountains, now the world widens. Maybe there are possibilities which no living creature have yet imagined."
Lule river has been a life vein for those that lived and worked along its shores, people have toiled and slaved, for their livelihood. The river has been dammed and tamed, but it has kept its power. "Voice of the river" is about working in the forest and lografting 50 years ago and about the troubles and hopes of those living along the river today.
Not to forget: this film is inspired by and contains many photographs by the legendary still photographer STIG T. KARLSSON, who half a century ago spent a lot of time along Lule river portraying the work of the log-drivers. In these strong portraits of these men you can see the hard work they did, their tiredness and the risks they took running, jumping and almost dancing over the logs – also the laughter, the freedom and the joy of the moment.
"The work was hard, the days long, but after the drudgery of the winters, working as a lumber-jack in the forests, the driving of the logs was like a breath of freedom."
Duration
76 min
Directors
Johan Bergström & Bo Harringer
Photo
Bo Harringer
Still images
Stig T. Karlsson
Music of the river
Hasse Alatalo
Song of the river
Fanny Alatalo
Voice of the river
Åsa Simma
Words of the river
Johan Bergström
Sound
Christoffer Demby & Josef Harringer
Editing
Josef Harringer & Sarah K Hellström
Sound Mix
Mikael Brodin, Linda Brännström & Evnita Karlsson
Production assistant
Aase Högfeldt
A production by Filmateljén
in collaboration with Sveriges Television/Hans Lindberg and Filmpool Nord/Sirel Peensaar-Miell and with support from Svenska Filminstitutet/Hjalmar Palmgren
© 2006 Filmateljén 89 AB