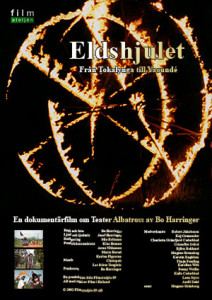 "The wheel of fire" is a mixture of documentary, poetry, magic, theatre and music.
We travel on a long journey, starting in Tokalynga in Sweden, through Poland and France and ending in Yaoundé in Cameroon. It's a journey with Teater Albatross and their street performance "Holy!" It's also a journey with the Holocaust. The Nazi genocide during World War II is performed in the streets in many countries.
The film is dedicated to all those who where killed in the nazi concentration camps and to all those, who today are killed in the streets of Palestine and Israel.
Duration
56 min
Director, Photo & Editing
Bo Harringer
Sound & Sound mix
Josef Harringer
Editing
Mia Eriksson
Music
Chutzpah
Production assistants
Kine Boman, Anna Niklasson, Maria Barud & Karina Figueroa
Featuring
Robert Jacobsson & Teater Albatross
A production by Filmateljén
with support from Film i Halland.
© 2002 Filmateljén 89 AB