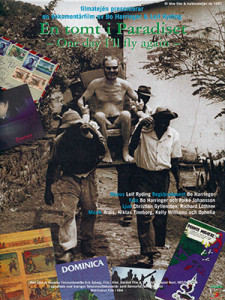 At an old plantation, in a distant valley, on a small island in the West Indies, lies a man in an iron bed. The bedposts are placed in old tincans filled with kerosene. An old grammophone stands in the corner, with the pickup scratching the innermost groove of a dusty record.
This man, the son of a known pacifist, became a soldier and international armsdealer. Among other things, he helped the swedish democratic goverment to sell weapons to a dictatorship in Latin America.
This man had a dream. The eternal dream about a paradise lost. One day, he found his paradise…
Listen to the main theme from the film by Ardis:
| | |
| --- | --- |
| Duration | 58 min |
| Script | Leif Ryding |
| Director | Bo Harringer |
| Photo | Bo Harringer, Folke Johansson |
| Set design | Gunnar Bertilsson |
| Sound | Christian Gyllensten, Richard Löthner, Gustav Söderberg, Hans-Olof Utsi, Torbjörn Rosander & Nils Olof Olsén |
| Editor & Dubbing editor | Bo Harringer & Leif Ryding |
| Music | Ardis, Niklas Tinnborg & Kelly William |
| Sound mix | Lennart Forsén |
A production by Filmateljén
in collaboration with SVT/Dokumentär, Danmarks radio/TV Fakta
with support from Film i Väst, Svenska Filminstitutet/Bo-Erik Gyberg, Nordisk Film & TV Fond, Filmpool Nord & NDC/Dominica.
© 1997 Filmateljén 89 AB