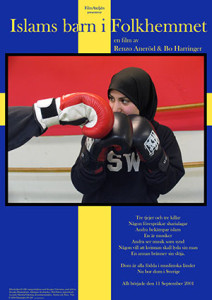 Three boys and three girls. All born in the Middle East now living in Sweden. All with different views of Islam, integration, the World and Sweden.
Some follow Sharia. Others fight Islamic roles.
One is a hip hopper. The other thinks music is a sin. One thinks that the woman must obey her husband. One fights for women's liberation.
One girl is a boxer. The other is an ordinary worker.
Some are closely followed by the Security Police.
Children of Islam is a documentary about religion, culture, conflicts and looking for an identity in a changing Sweden.
Duration
74 min
Directors
Renzo Aneröd & Bo Harringer
Sound
Josef Harringer
Editing
Bo Harringer, Josef Harringer, Rasmus Ohlander sfk
Sound Mix
Anders Billing
A production by Filmateljén
in collaboration with Sveriges Television
with support from Svenska Filminstitutet/Tove Torbjörnsson, Allmäna arvsfonden, Olof Palmes minnesfond, Levande Historia/Göteborg, Konstnärsnämnden, Sensus and Film i Väst.
© 2006 Filmateljén 89 AB