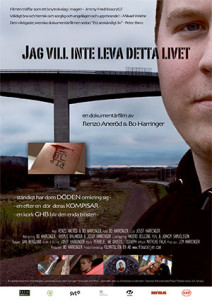 Henke and Sebbe are in their twenties. Death is all around them. Their friends are dying one by one. And when Johnny, their best friend, jumps off the Angered-bridge, everything falls apart. They go deeper into their GHB abuse. Henke and Sebbe lead a life of little joy, a life they don´t wanna live.
In the last few years there have been a number of deaths within the same group of youths in the Gothenburg area. It's a group, most of which has grown up together in a fairly ordinary part of town mainly inhabited by Swedish workers and small business owners. The causes of death have been car crashes, murder, suicide and drug overdoses. The common denominator is that they have all been using so called "poor man's drugs" such as GHB, GBL and sedatives like Rohypnol.
We came into contact with some of these youths through a previous documentary, "Under the dark sky of the nation". Many of their friends had died young. We were shocked by the dejectedness and destructivity within these youths. The spark of life seemed to be gone.
When one of the young men that we had gotten to know and filmed with, took his own life by jumping off the Angered bridge, we decided to make a documentary with them. We want to see if you can answer the question "why" by following them in their everyday life.
Listen to one of the musical themes from the film.

| | |
| --- | --- |
| Duration | 72 min |
| Directors | Renzo Aneröd & Bo Harringer |
| Photo | Bo Harringer |
| Sound | Josef Harringer |
| Editing | Bo Harringer, Rasmus Ohlander & Josef Harringer |
| Sound Mix | Anders Billing fsfl & Joakim Samuelsson |
| Speaker | Dan Berglund |
| On-line | Josef Harringer |
| Music | Perkele, We Ghosts & Iozaeph |
A production by Filmateljén
with support from Swedish Filminstitute/Tove Torbiörnsson, Allmäna arvsfonden, ABF,
Levande historia/Göteborg and Sensus.
© 2009 Filmateljén 89 AB